Invisalign Grove City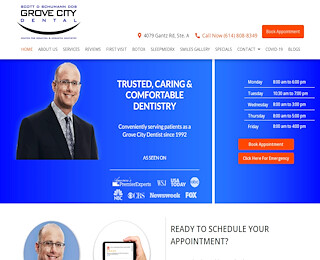 When looking into Invisalign in Grove City, consider our practice for your treatment plan. Grove City Dental is pleased to offer innovative treatments that create more-beautiful smiles. With Invisalign, there's no need to commit to metal braces – removable aligners make wearing Invisalign more comfortable and convenient. You can learn more about treatment at Grove City Dental when you call our office to schedule a consultation. It takes just a few minutes for our team to determine whether Invisalign will work for you.
What Are the Benefits of Invisalign?
Patients enjoy numerous advantages of Invisalign treatment over conventional metal braces:
Discreet teeth straightening: Invisalign's clear plastic aligners are nearly undetectable, even during your best smiles.
No metal brackets to irritate soft mouth tissue and no metal wires to come loose. Patients find Invisalign decidedly more comfortable than other braces. Best of all, patients can remove aligners for two hours each day so you can eat what you like and play sports or a musical instrument … and still see amazing results.
Invisalign works in less time than metal braces – typically from one year to a year and a half.
Computerized treatment mapping means no surprises along the way. Your dentist can show you what your teeth will look like before treatment begins and you'll know exactly how long treatment will take before your first office visit.
Am I a Candidate For Invisalign?
Depending on your smile goals and the position of your teeth, Invisalign may be the right treatment option for you. The fastest way to find out is by scheduling an appointment to learn about Invisalign at Grove City Dental. We'll take whatever time you need to answer your questions and provide the information you need to help you make the best decision regarding your smile. Get to know us better by calling to set up your initial appointment. Invisalign can treat:
Crowded teeth
Spaced teeth
Overbite
Underbite
Crossbite
Invisalign in Grove City
We want to make orthodontic treatment fit your budget, which is why we are committed to offering a dental membership plan. Plus we accept Compassionate Health and Care Credit third-party financing to cover the cost of treatment. We also offer the option of easy pay plans, so you can pay for your beautiful smile over time, as your budget allows. During your consultation appointment, we'll discuss payment options with you to find a plan that makes you feel comfortable.
6 Month Smiles & Invisalign in Grove City
At Grove City Dental, we're proud to offer patients two of the most popular options in clear orthodontics:
Invisalign Clear Aligners
Six Month Smiles Clear braces
If you're interested in beautiful straight teeth in less time, you'll find that the choices we offer make perfect sense.
There's more to a beautiful smile than just having straight teeth, which is why we recommend switching to Grove City Dental for all of your family's dental care needs. We provide a full range of services and treatments, including preventive dentistry, restorative treatments, cosmetic procedures, and more-specialized treatments – all under one roof. Why travel to four or five different dental offices for your family's care when you can get it all at Grove City Dental?
Invisalign Grove City
GROVE CITY DENTAL
6148081700
4079 Gantz Rd, Grove City, OH 43123
View Larger Map